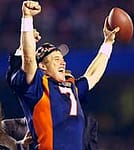 The Denver Broncos football team recently announced the re-hiring of their former star Quarterback John Elway to a new position, Executive Vice President of Football Operations.  In announcing his new hire, the team's owner Pat Bowlen optimistically proclaimed that Elway's "leadership, competitiveness and passion for the Denver Broncos will position this team for long-term success through his work leading our football operations."
A Trap?
Assuming that this new hire will actually be accountable for improving results, I wonder if the Broncos are falling into the same seductive trap as so other organizations of all kinds by attempting to turn a super producer into supervisor.  As a player, John Elway's most valuable asset was his strong, accurate right throwing arm.  His athletic prowess offers little help to him in his current responsibility for rebuilding a struggling team and winning more games.
Michael Jordan deja vu?
The Broncos are not the first team to be seduced in the hiring process by past athletic stardom.  The Washington Wizards basketball franchise appointed another Hall of Fame athlete to a similar position.  Michael Jordan's performance as a General Manager demonstrated that Wizardry as a player does not provide all the skills required to succeed as an executive.
Is this a fit?
I would agree with Mr. Bowlen that leadership, competitiveness and passion can serve John Elway well in his new position.  But might the job require more than that? Is the owner so star struck that he has overlooked other elements that are critical to John Elway's success as an executive?  To address the question of fit, we need to ask, can Mr. Elway the executive…
Objectively assess talent?
Effectively delegate responsibility?
Interact with superiors?
Communicate with those who have different styles and interests?
Make timely, rational decisions?
Manage his time without a running game clock?
Influence others when he is not the only voice in the huddle?
He will need to both possess and develop these skills to be more than just another figurehead.
Time will tell if John Elway becomes another Michael Jordan as an executive.  Or will he be the next Jerry West who succeeded both on the basketball court and in the executive suite?   It will depend on his ability to develop the necessary skills to support his existing passion and love for the Broncos.